This area provides informative elements for media wishing to cover Mitchell Weitzman and his work.
Contact Mitchell Weitzman:
Email: [email protected]
Video:

CHILD HOLOCAUST SURVIVOR, RAISED CATHOLIC, REFLECTS ON THE 50TH ANNIVERSARY OF THE NOSTRA AETATE
Author Bio
As a child of Holocaust survivors, Mitchell long grappled with questions of faith, identity, justice, and empathy. I sought writing as an outlet throughout my formative years in the suburbs of Detroit while attending Akiva, an Orthodox Jewish Day School (despite not being raised strictly Orthodox). The conflicts, questions, and overall angst of my childhood were good indicators that he'd have a lot to write about.
He continued to write throughout college (New York University) and graduate school (George Washington University Law School) years as well as in his professional life, which has focused on health care law and policy.  He wrote some of the first "identity cards" published by the U.S. Holocaust Memorial Museum and was a longtime columnist for the Washington Jewish Week.
For over twenty years, he worked on The Rose Temple: A Child Holocaust Survivor's Vision of Faith, Hope and Our Collective Future, published in 2016.
Currently he is working on:
Rose's Gift, an adaptation of The Rose Temple for children ages 8-12.
A middle grade/young adult allegorical story, set on a remote island, harkening the Israeli-Palestinian conflict.
A middle grade/young adult story about baseball, mysticism, Judaism, and music.
When not working at my day job or writing, he enjoys the company of his wife, Beverly, and children, Paula and Joshua. When possible, he tries to squeeze in a game of tennis, or go for a walk by the nearest lake, river, or ocean he can find.
Author Photos  [Right-click to download high resolution, print-ready version]
Book Photo  [Right-click to download high resolution, print-ready version]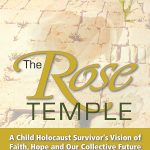 Visit the The Rose Temple Website
Meet the woman whose compelling story—from embattled but triumphant Jewish girl raised Catholic in postwar Poland to adult spiritual messenger — will introduce you to a healing voice that must be heard in these turbulent times. Part memoir and part historical narrative, The Rose Temple is the inspirational, thought-provoking tale of Lucia Weitzman, who as a toddler during the Holocaust was placed by her parents into the care of a Polish Catholic couple in a desperate attempt to save her.