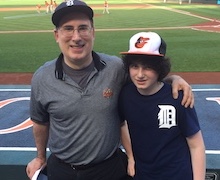 My sports life began forty years ago, in early fall 1974. My timing could not have been worse. I missed the glory days of the Red Wings, Lions, and Tigers in the 1950s and 60s (The Pistons had no glory days at that point). By the time the Tigers, Wings, and Pistons won their championships, I was long gone, having relocated to the East Coast.
I was eleven-years-old in 1974, a late sports bloomer.  My father, an émigré from Europe, was not interested in American sports so I had little exposure to it. I became aware of my ignorance as school began in September 1974 and chatter at the bus stop centered around Tiger great Al Kaline's pursuit of his 3,000th hit. I didn't know who Al Kaline was but figured I'd better find out quickly if I wanted in on the conversation.  I was a quick study from that point on, devouring the sports section, which my father did not notice was missing from his morning paper.
Al Kaline collected his 3000th hit against the Baltimore Orioles on September 24th.  But Kaline aside, the Tigers were in descent in 1974, bottoming out in 1975 with a record of 57-102. The Red Wings bottomed out a year later, finishing 16-55-9 in the 1976-1977 season. The Pistons waited until the 1979-1980 season to bottom out with a record of 16-66.  And after a few years of mostly mediocre play, the Lions joined the club in 1979, eking out a 2-14 record.  Like I said, my timing was not great.
There were moments of hope and triumph in the midst of these lean seasons. Marcel Dionne mesmerized me in 1974-1975, the first hockey season I followed. He amassed 121 points and was one the NHL's brightest stars. Mark ("The Bird") Fidrych captivated me during his magical explosion onto the Detroit and national stage in the summer of 1976. And the Lions offered a spark of hope in 1980 with a 4-0 start, adopting and covering Queen's Another One Bites the Dust as their team anthem.
Unfortunately, though, hope and triumph quickly faded, replaced by disappointment and, in some instances, disillusionment. Marcel Dionne, frustrated with the Red Wings losing ways and seeking more money elsewhere, signed with the Los Angeles Kings after his stellar 1974-1975 season.  It was a stunning betrayal.  Meanwhile, at the beginning of the 1977 season Mark Fidrych suffered injuries that cut short his promising career. The Bird, and the magic, was grounded.  Finally, after their 4-0 start, the Lions ultimately bit the dust themselves that 1980 season, finishing 5-7 to limp to a 9-7 record and missing the playoffs.
I left Detroit in fall 1981 to attend college in New York and then lived in the Washington, D.C. area for more than twenty years. Of course, the Tigers, Pistons, and Red Wings then won championships I had to watch and enjoy from afar, often a lone cheering voice in surroundings that bordered on hostile (think Yankees) or apathetic (think Capitals).
About two years ago, I moved to Baltimore, where my son's sports life began at about the same age as mine did – age eleven. His timing, though, was much better.  The Ravens won a Super Bowl in his first year as a football fan. The Orioles made the playoffs.
At the first baseball game I took him to at Baltimore's Camden Yards – a Tigers/Orioles clash – the public address announcer enthusiastically mentioned the presence of a native Baltimorean and baseball great. His name: Al Kaline.  I turned towards son and shared some of my memories of old Tiger Stadium.  Then we enjoyed a wonderful day at the ballpark. My timing, it seemed, was just right at last.
SaveSave